Los internautas vuelven a hablar sobre un incidente impactante ocurrido durante la transmisión de un programa musical hace quince años.
Quince años después del 30 de julio de 2005, los internautas y los televidentes quedaron conmocionados y perturbados debido a un incidente imprevisto que ocurrió durante una transmisión en vivo del programa musical de
MBC 'Music Camp'
. Este programa de música se transmitió en vivo por televisión, por lo que este no se podía editar.
En 2005, las bandas independientes no recibieron mucho reconocimiento del público. Por lo tanto, los programas de música a veces presentaron a estos nuevos artistas independientes como una actuación especial.
'Music Camp
' también siguió la tendencia e introdujo una banda indie en su programa.
Sin embargo, surgieron problemas el primer que
'Music Camp'
intentó presentar una banda independiente. La banda
Rux
apareció en el escenario con otros 20 miembros de la banda de punk rock mientras cantaban la canción
"From now until the end"
.
Cuando comenzó la música, un miembro de la banda
The Couch
y otro miembro de la banda
Spikey Brats
de repente se quitaron los pantalones revelando sus partes privadas ante la cámara.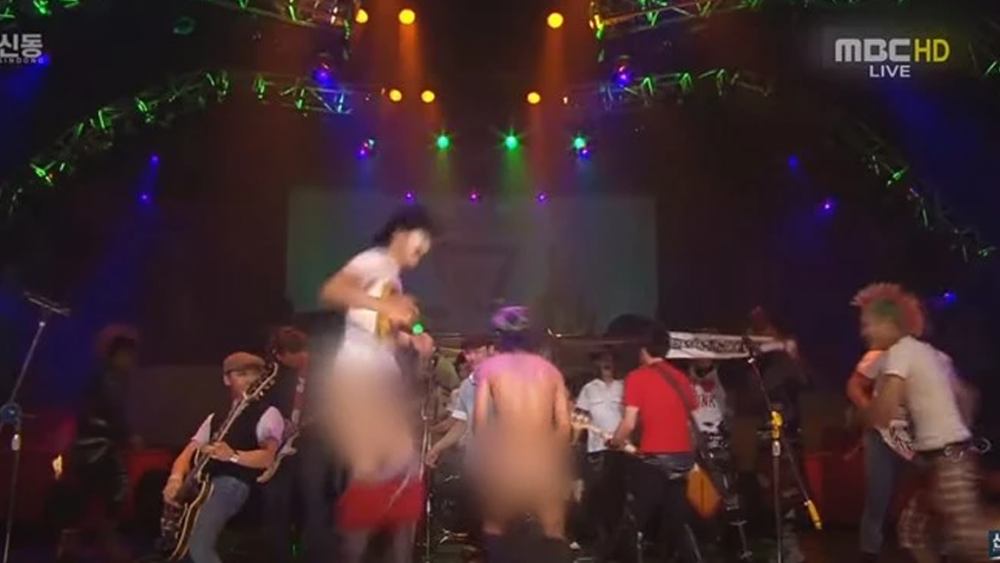 Todo el calvario fue transmitido en vivo por televisión mientras el desconcertado camarógrafo intentaba apagar la cámara. Aunque el camarógrafo intentó filmar algo más mientras esto sucedía, era demasiado tarde y los cuerpos desnudos de los miembros de la banda estaban al aire.
El cantante
Shinji de Koyote y MC Mong
, los dos MC durante ese tiempo, se disculparon de inmediato por la perturbación, pero el incidente se informó en varios programas de noticias.
El efecto de la situación fue severo ya que muchos internautas y televidentes sintieron mucha incomodidad. El programa de música 'Music Camp' tuvo que
cancelarse
después del incidente y
los dos miembros de The Couch y Spikey Brats fueron detenidos
pero recibieron libertad condicional por los delitos de desempeño indecente y obstrucción de los negocios.
Hasta el día de hoy, este fue el peor accidente de transmisión en vivo que ocurrió en la historia de la transmisión coreana. Muchos cibernautas aún hasta hoy están perturbados por las acciones de los miembros de la banda.
Source