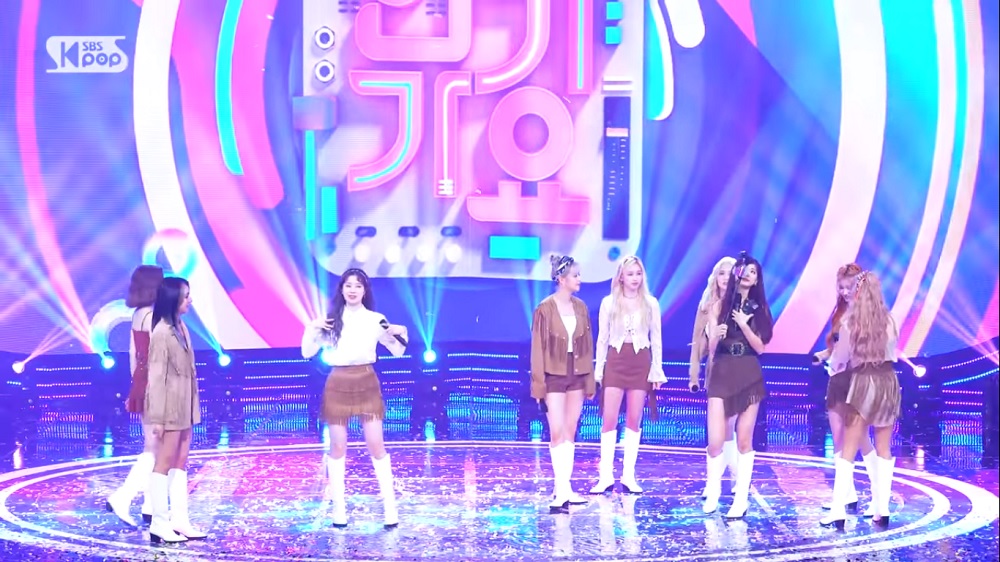 El episodio de hoy de
INKIGAYO
generó cierta controversia durante la reciente actuación encore de
TWICE
. Cerca del final de su actuación, se puede escuchar una voz murmurando algunas palabras. Algunos internautas asumieron que era uno de los miembros del personal diciendo: "Son muy malas cantando".
Incluso, algunos otros expresaron su molestia a través de un video en el cual parece que las chicas fueron interrumpidas abruptamente en su actuación.
they're living their best life and enjoying the moment and then y'all just gonna stop the music? look at jihyo's reaction the way she pouts. 🥺 ++ the way y'all talk shit about them? about how they sing? 🤬 they deserve better.

#InkigayoApologizeToTwicepic.twitter.com/wq6C2pIDaj

— 𝖟𝖍𝖆𝖓𝖎𝖆 (@godistwiceu) June 14, 2020
SBS
pronto lanzó un video que explica el problema y explicó claramente toda esta situación.
Con respecto a sus disculpas y explicaciones, SBS aclaró que todo era un gran malentendido.
Gracias por apoyar el canal KPOP de SBS. Nos gustaría aclarar las acusaciones hechas contra nosotros, que un personal de SBS KPOP criticó el desempeño de TWICE durante la etapa de encore. Esto es un simple malentendido. Sin embargo, nos gustaría pedir disculpas por subir el video sin clarificar el audio superpuesto y, en última instancia, causar frustración.
SBS
continúa explicando cómo se escucharon los murmullos debido a una superposición de audio.
Para ayudar a comprender por qué el audio se superpuso, nos gustaría explicarle cómo se transmiten las presentaciones en vivo de Inkigayo. Con el show es en vivo, no podemos estimar el tiempo de finalización. Por lo tanto, tratamos de dejar mucho margen de maniobra para la ejecución del bis. Y mientras se está en el estudio, la ejecución del bis continúa durante el tiempo que sea necesario, ya que es un momento especial para los cantantes y sus fanáticos. En la televisión, el programa corta abruptamente para transmitir los trailers y comerciales.
SBS también explica cómo se reproduce siempre el audio,
incluso antes de que comiencen las presentaciones.
Por lo tanto, el personal de Inkigayo permanece en la sala de producción mirando y monitoreando la transmisión. Esto significa que, incluso cuando los cantantes abandonan el escenario, el personal del estudio sabe que el espectáculo aún está al aire. El PA continúa reproduciendo el audio que se está transmitiendo. Si ha estado en un estudio de transmisión en vivo, puede saber esto: los monitores reproducen video y audio desde 10 minutos antes de que comiencen las presentaciones. Ahora que hemos explicado los antecedentes, vamos a explicar el audio que creó esta controversia.
Resulta que el supuesto murmullo escuchado fue de un comercial, no de un miembro del personal.
El audio en realidad no es de un miembro del personal. Es parte de un script comercial de aplicación de compras. La línea dice: "Completando mi imagen elegante". Ese comercial en particular comenzó a transmitirse tan pronto como TWICE bajó del escenario. El audio también se reprodujo en el estudio a través del PA. Al momento ocurrió para capturar el guión del comercial que se leía sin música de fondo. Hemos explicado todo en el texto, pero esto tendrá más sentido si mira el video.
SBS concluye dando una disculpa a
TWICE
y sus fanáticos por el malentendido.
Entendemos que cualquier crítica irrazonable hacia los artistas que amas puede ser molesta. Sabemos que la controversia surgió de tal amor. Por lo tanto, nos disculpamos nuevamente por no haber evitado tales malentendidos en primer lugar. Nosotros, en SBS KPOP, sentimos lo mismo que los fanáticos. Realmente nos lamentamos por los fanáticos de TWICE que, aunque fue un malentendido, se sintieron molestos por esto. También nos disculpamos con TWICE y representantes de agencias que pueden haberse preocupado por los fanáticos molestos.
Fuente